A cave man real food (and drink) diet doesn't forbid us of alcohol. The key to successfully imbibing alcohol while living healthy is choosing the right adult beverages and consuming them in a responsible, intentional way. There's an appropriate time to enjoy a moderate amount of alcohol to unwind or to celebrate. Aside from the positive aspects of socializing, some types of alcohol are associated with a lower risk of cardiovascular disease, and they may also reduce the risk of infection with the bacteria that causes ulcers.
Here are a few key factors to help you decide whether you should pop a cork:
1. Alcohol is a toxin to the liver.
2. Alcohol is a drug, which means it's addictive.
3. If losing weight is your goal, remember that your liver can't help you with fat burning if it's busy detoxifying alcohol.
Before you pour yourself a glass of something intoxicating, consider your health goals and overall eating habits, and then make smart choices about which type of alcohol you drink.
Steer clear of grain-based drinks that can also include gluten, such as the following:
Beer
Bourbon
Gin (some brands are processed with grain-based alcohol)
Grain-based vodka
Whiskey
To celebrate on special occasions, feel free to choose one of these:
Potato vodka
Red wine
Rum
Sparkling wine
Tequila
White wine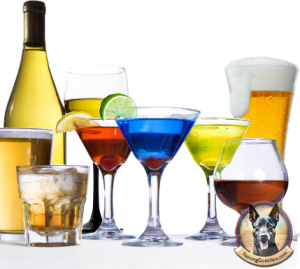 To manage your body's insulin response to the sugars found in alcohol, mix spirits, like tequila or vodka, with soda water, ice, and a squeeze of lemon or lime juice. Avoid fruit juices, which are liquid sugar; and avoid tonic water, which is also high in sugar.
When uncorking wine, choose the driest (least sweet) wines possible. The driest reds include Pinot Noir, Cabernet Sauvignon, and Merlot; the driest whites are Sauvignon Blanc and Albarino.
Our hunter-gatherer ancestors occasionally let their hair down when they were exposed to alcohol by eating fermented grapes. But they didn't sit around the fire doing shots. You can't maintain a high level of health if you drink alcohol frequently or in large quantities. The pleasant buzz that alcohol provides also places stress on your liver, creates a strong insulin response, and dehydrates your cells. Enjoy your cocktails in moderation.
Stay Strong!  Amber, XXXX 🙂