Today I ask myself a tough question that I often ask my clients after they complete a 30 Day "Whole You" program.
What has been my biggest challenge eating a real food diet, and how did I overcome it?
There was a time when I had this nagging feeling that I needed to be "lean," with a very low body fat percentage, to truly epitomize a real food diet "success". I finally realized that health is the REAL truth-teller, and the body must be loved and appreciated for wherever real health brings it. There was nothing to be gained from giving old food neuroses a new disguise; or from allowing old insecurities to manifest themselves over and over again through different types of food. I had to forgive myself all those mistakes! I'm grateful to have come through that internal battle, because it has shifted my perspective entirely and allowed me to appreciate my body and my food in ways I never thought possible. But it wasn't an easy mind-set to relinquish.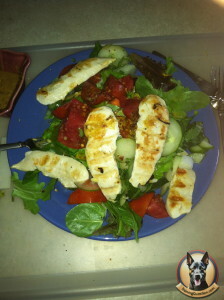 I would love to hear what challenges you have faced eating a real, whole food diet (paleo or primal diets). Please comment below to share your experiences with others and me. Thanks! 🙂
xxx, Amber